alfa romeo car logo history
Are the red cross and crowned serpent devouring a human figure a warning to Alfa Sud owners who might complain about their front wings falling off?
No, the symbols are the coat-of-arms of the city of Milan and related to the Crusades, hence the cross.
The figure being eaten is a child or a Saracen, depending on who you listen to.

Alfa romeo history
In 1910 a group of Italian businessmen bought a large car plant in Portello outside Milan.
The plant had been the Italian branch of the French car Darracq, which models didn't apply to the Italians at all.

The marque Alfa Romeo is one of the most important names in the history of the automobile..."Alfa" (Socie`ta` Anonima Lombardo Fabbrica Automobili) was founded in the year 1910.
The company was given the name Alfa Romeo after Mr. Nicolo Romeo bought the firm in the year 1915.

Alfa Romeo started building small automobiles for "everyday" passenger transportation. In the early 1920'ies Alfa Romeo also started engineering and building sports- and racing-cars.
The automobiles built by Alfa Romeo were all technically refined and far ahead of their competitors;
New inventions and technical discoveries were engineered, tested and introduced in the production models right away.
A good example is the introduction of the double overhead camshafts (DOHC),
all Alfa Romeo engines from 1929 up to today are fitted with this superior overhead valve operating principle.

During the thirties and in the end of the forties of the ninetieth century Alfa Romeo was the dominant marque in racing competitions.
Alfa Romeo racingcars were able to win all racing competitions which they competed in like Le Mans and the Mille Miglia.
In the early thirties Enzo Ferrari was racing for "scruderia"Alfa Romeo and was promoted to be team manager in the late thirties.
Alfa Romeo decided to put an end to the racing activities in 1938 and Enzo Ferrari decided to start his own racingcar business in 1940...

Before the second world war Alfa Romeo produced primarily rolling chassis as technical base for passenger automobiles.
These rolling chassis were in most cases fitted with body designs created by the famous Italian bodywork artists like Touring and Zagato.


The rolling chassis type being manufactured by Alfa Romeo during these prewar years was the 6C.
The 6C chassis/engine combination through the years: 1750/55 bhp. (from 1929), 1900/68 bhp. (from 1933), 2300/68-95 bhp. (from 1934) 2500/ 87-110 bhp. (from 1939).

Next to the Alfa Romeo 6C chassis/engine-combination Alfa Romeo introduced the 8C in the year 1931.
The 8C chassis/ engine combination was primarily used for racing- and sportscars.
The 8C engine featured eight cylinders-in-line, dry-sump engine lubrication and a blower (compressor) giving the engine a power output of 150 bhp.!

All Alfa Romeo models built before the second world war were fitted with the steering wheel on the right hand side of the car.
After the second world war Alfa Romeo started producing the 6C 2500 again which had been in production for over ten years already.
Just in time the people in charge of Alfa Romeo realized that the industry had changed and that the market for large, expensive "tailor made" automobiles was increasing rapidly.

To survive they decided to reconsider their position and started preparing for standardized industrial automobile production as other manufacturers did before following the ideas of Henry Ford.
In the year 1949 the first result of the new Alfa Romeo era saw the light of day; the Alfa Romeo 1900!
The Alfa Romeo 1900 was the first Alfa Romeo built with a unitary bodywork construction (without separate chassis). The car was also the first fully industrial -mass- produced car to come out of the Alfa Romeo factory.
In the early fifties of the ninetieth century Alfa Romeo started to compete in racing-events again...
racing their old prewar competition-cars and WINNING with Fangio behind the wheel! Soon thereafter Ferrari, Jaguar and Mercedes were back in winning position.
1954 was the year of introduction of the Alfa Romeo Giulietta series.
The Alfa Romeo 1900 was still in production then but production was ceased in the year 1958.
The Giulietta series included some very fine classics like the Bertone Sprint, Giulietta SS (Sprint Speciale) and the Pinin Farina Convertible.

The year 1962 saw the introduction of the Giulia series with a handsome, modern and sporty, four-door saloon, a Giulia Spider Veloce (successor of the Alfa Romeo Duetto), a Giulia GTV coupe model by Bertone and an impressive Zagato 1300 junior.
The Giulietta SS was prolonged and renamed Giulia SS...

All Giulietta and Giulia models were characterized by their unitary bodywork construction, their powerfull aluminum alloy engines, double overhead camshafts and five speed gearboxes (with floor shift!), excellent roadholding capabilities and excellent body designs...
The post war glory days of Alfa Romeo...

There is no other marque in automobile history (Mercedes Benz comes close) with a more important sportscar and racing history as Alfa Romeo.
Regretfully it was that in the 1980'ies not very much was left that symbolized that great history.

The cars coming out of the factory those days (Alfetta series) were more or less dull (many saloons), not very inspiring - except the Alfetta GTV, quality was poor and no one at Alfa Romeo was thinking of racing anymore for decades...

The Alfetta series was not the bestseller the Giulia has been for Alfa Romeo.
Alfa Romeo did have a potential best seller; the Alfasud (a tremendous driver with boxer-engine!)...
over one million were sold but overall quality was so bad, the car already rusted during production, that the Alfa Romeo name was crushed. In the mid-eighties Alfa Romeo was ready to shut the factory gates as it was reluctantly taken over by Fiat.
It took Fiat/ Alfa Romeo almost fifteen years to rebuilt the old Alfa Romeo image by good marketing and by building better Alfa Romeo cars every generation.
It started with the Alfa 33 (with boxer-engine), 75 and 164 (both with rear-wheel drive).
Then the new generation 145, 146 and 155 followed (all front wheel drive) Specials were introduced at the same time which hit bulls eye; the GTV and the Spider!

The third generation put Alfa Romeo really back on the map of modern motoring; the Alfa Romeo 156, the 166 and the 147.
All well designed by Alfa Romeo former chief designer Walther de Silva.

alfa romeo logos pictures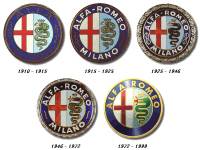 alfa romeo logo icon



alfa romeo logo wallpaper