Ferrari car logo history
"The story of the prancing horse is simple and fascinating.
The horse was painted on the fuselage of the fighter plane flown by Francesco Baracca, a heroic Italian pilot who died on Mount Montello: the Italian ace of aces of the First World War.
In 1923, when I won the first Savio circuit, which was run in Ravenna, I met Count Enrico Baracca, the pilot's father, and subsequently his mother, Countess Paolina.
One day she said to me, "Ferrari, why don't you put my son's prancing horse on your cars; it would bring you luck."
I still have Baracca's photograph with the dedication by his parents, in which they entrusted the emblem to me.
The horse was black and has remained so; I added the canary yellow background because it is the colour of Modena." - Enzo Ferrari

ferrari history
Scuderia Ferrari were founded in Modeno in 1929, the main purpose this company was to organize racing for its members.
This was the beginning of a strong involvement in motor racing, this led to the creation of the official racing team and the Scuderia was to become a division of Alfa Romeo, Scuderia Ferrari took overall control of the racing team in 1933. 1940 saw the end of the Scuderia's connection with Alfa Romeo, the company then went on to establish itself as an independent organization to be called "Auto Avio Costruzioni Ferrari" the company worked for the national Aviation Company in Rome.

During World War II in 1943 the Ferrari workshop moved base from Modeno to Maranello and began to produce grinding machines for ball bearings.
The workshop had to be rebuilt in 1946 after being bombed during the war, this was also the year that the company started to design and build the first Ferrari.
In 1960 the business was turned into a joint stock company in which Fiat became a 50-50 partner in 1969.


1963 saw Enzo build his his Istituto Professionale per l'Industria e l'Artigianato, this was a training school based in Maranello.
The Fiorano test track was to follow in 1972.
During 1947-1988 Enzo went on to lead Ferrari to win over 5,000 races all over the world, this also brought the Scuderia 25 world titles.
Ferrari's first world championship grand prix win came in the 1950 British Grand Prix with Argentine Froilan Gonzalez at the wheel.
Ferrari took its first world championship victory with Alberto Ascari in 1952

Enzo Ferrari died in Modena on August 14 1988. After the death of Enzo Ferrari, Scuderia Ferrari struggled to come to terms with the loss of its founder.
The team was dragged down with internal politics marring the performances on the track.
Despite a good run with Mansell and Prost the team soon became un-competitive.
The turning point for Ferrari was the signing of the current world champion Michael Schumacher and Ross Brawn in 1996, since then the team has re-found it's racing history and are now back at the front of the grid.

ferrari logos pictures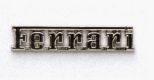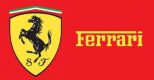 ferrari logo icon



ferrari logo wallpaper