Daihatsu history
Although its roots can be traced back to 1907, the Daihatsu brand name was not used until 1951.
After producing three-wheelers, Daihatsu built its first four wheelers in 1958.
Even from the start, the company, now part of Toyota, they specialised in small-capacity passenger cars and four-wheel-drive off-roaders.
In 1966 the Compagno had the distinction of being the first Japanese car to be imported, very briefly, into the UK.

The small car range was dominated by the little Domino and Charade models, mostly with three-cylinder engine, including a tiny sub-1.0-litre diesel.
The ultimate three-cylinder model was the turbocharged Charade GTI, which managed 99bhp from its 993cc engine.

Japan's domestic tax laws brought about a unique generation of tiny K-class city-cars, which had to comply with strict performance and dimensions rules.
Daihatsu's Cuore, with a twin-cylinder 547cc engine, first appeared in 1976.
This was joined a decade later by the Leeza, with the turbo version producing 50bhp.

Daihatsu's first 4WD off-roader was the utility Taft, available with engines from 1.0 petrol to 2.5-litre diesel.
The Fourtrak, launched in 1985, is more a working than lifestyle off-roader.
The Sportrak, which was introduced in 1990, is aimed at the leisure market, although it has been left behind by newer vehicles such as Honda's CR-V or the Toyota RAV4.


A slight relaxation in the K-class rules has allowed these cars to be a little larger.
The little five-door Move, designed in conjunction with IDEA in Italy, uses a 12-valve three-cylinder 847cc engine, with a three-speed automatic an option over the five-speed manual 'box.
UK promotion of the Move reflecting its bizarre appearance (ads used the word 'weird') - despite its short length, it has a roof line tall enough to allow the driver to wear a top hat. More conventional is the Grand Move, basically a small MPV with a 1.5-litre engine.

Overall Daihatsu's UK range tends to be characterised by dynamically unremarkable but unusually packaged smaller vehicles.
One possible exception could be the stylish Copen roadster.
Although the car does not currently conform to European standards, Daihatsu is said to be looking into the feasibility and cost of converting the model for export.

daihatsu logos pictures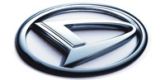 daihatsu logo icon